QUADS AND BUGGIES FOR RENT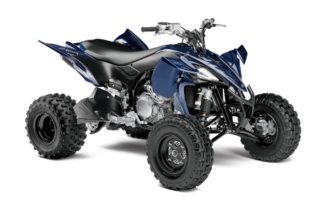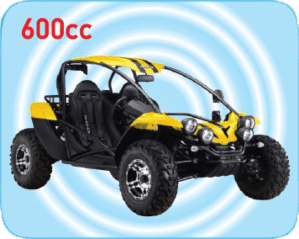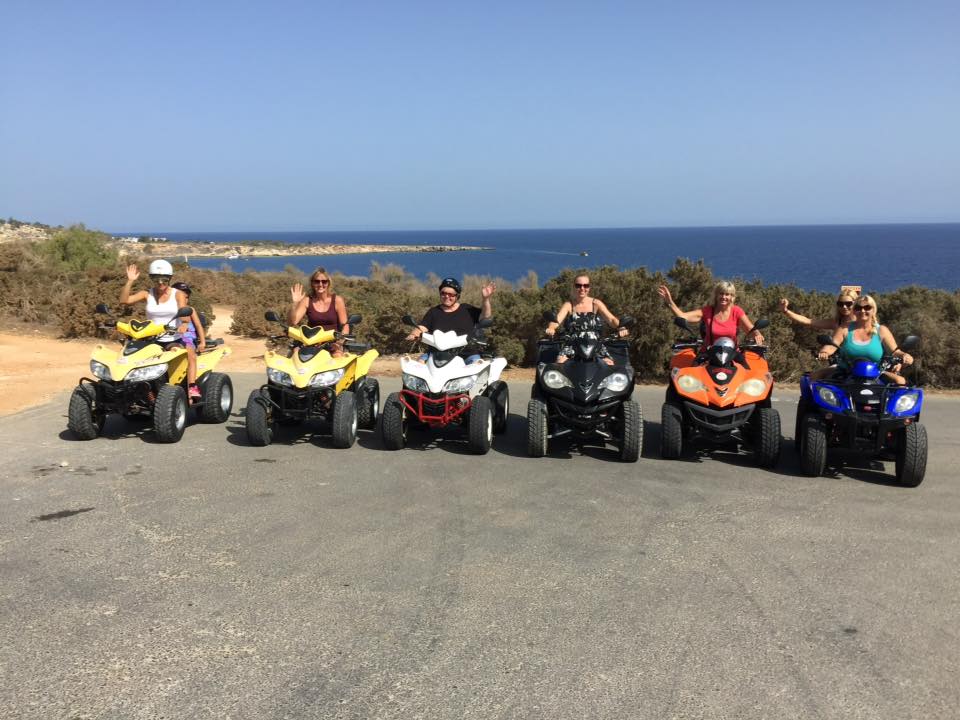 ENJOY THE RIDE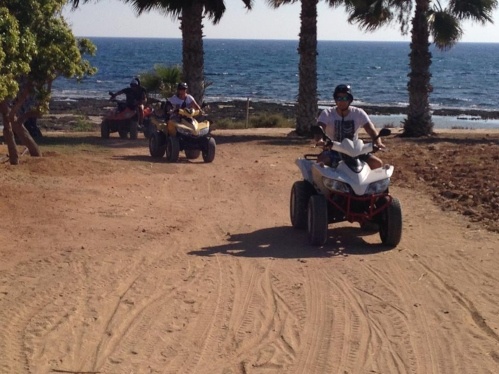 Quad Bikes are the best way to cruise around Ayia Napa, visit stunning beaches or get out of town for the day. As you all know, the main Ayia Napa square and Nissi Beach are a couple of kilometres apart and walking in the heat of summer is a big NOooo.
During the long hot days of summer, there's nothing better than feeling the breeze on your face as you drive to and from the beach.
Anyone who is visiting Ayia Napa should know that  you'll need to get yourself some wheels.
There are plenty of other places worth a visit out of town if you fancy a change.
There are other fabulous beaches in Ayia Napa such as Landa and Macronissos and the Waterparkis just at the edge of town. Heading the other way is Cape Greco and the gorgeous pine-fringed Konnos Bay. This can be reached in about 10-15 minutes from Ayia Napa and is definitely worth a visit. Paralimni Village is also just a few miles away and is full of trendy boutiques and smart shops. If you want to stock up on food or alcohol, this is also where to find the big supermarkets, such as Kokkinos, Carrefour and Lidl.
One of the most popular places to visit just outside of Ayia Napa is Cape Greco, which is a national park and a nature reserve, here you can also stop for a spot of cliff jumping at the sea caves.
THE RULES
The most important thing to remember is to wear your helmet! Yes, it might not look all that good and it may mess up your hair, BUT if you fall off and land on your head it just might save your life. If you think you're too cool to care about safety maybe the €85 fine will make you think again.Secondly don't drink and drive. Besides the obvious thing about being a danger to yourself and others, this carries a big fine
The traffic police make plenty of money in the summer in Ayia Napa and every day you will see them around the town stopping person after person and issuing on the spot fines for various offences.
As well as risking a fine, if you drive dangerously and the company you have rented your bike from finds out then they will take the vehicle from you with no refund for unused days as you will have broken the terms of their contract.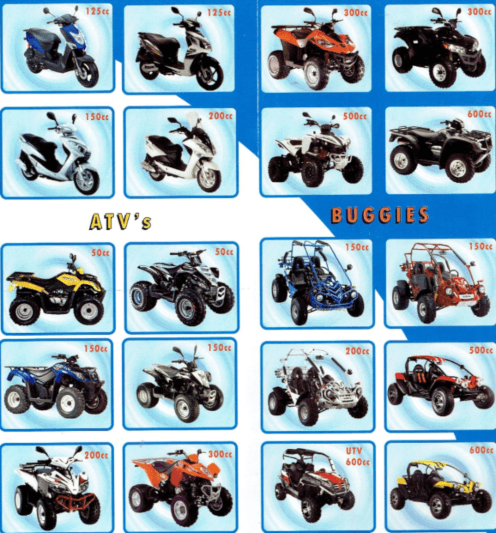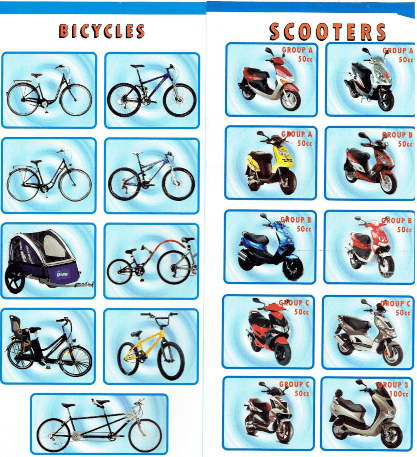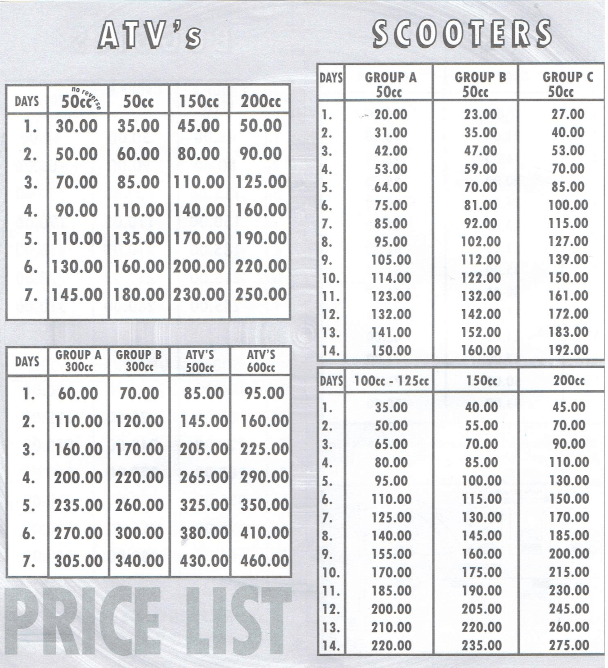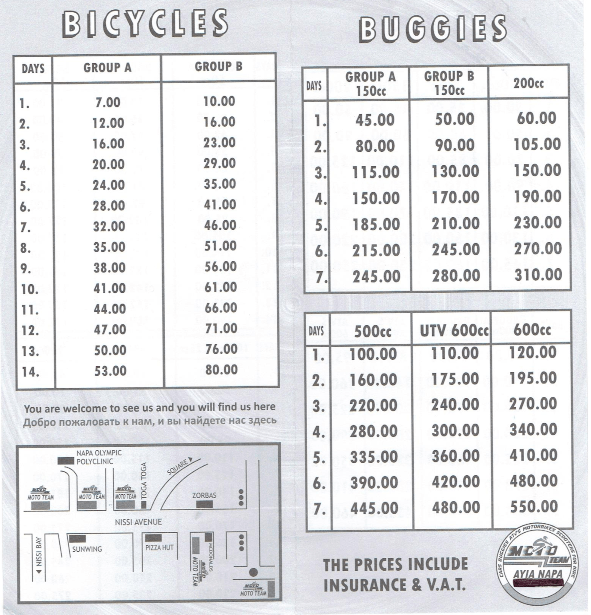 EXPLORE THE ISLAND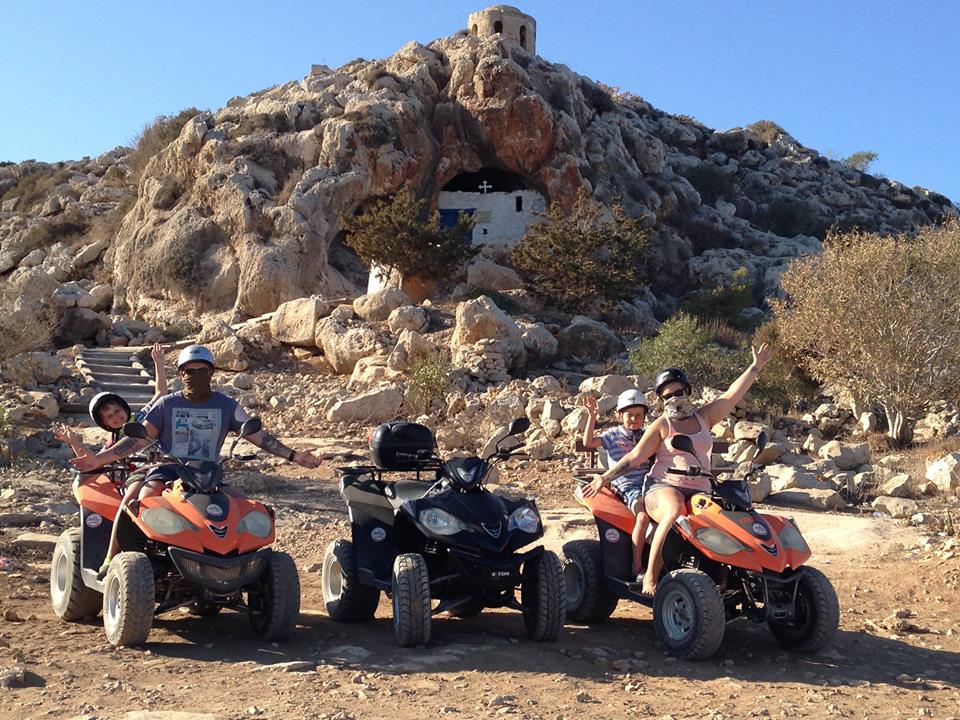 THE THINGS YOU NEED TO KNOW ABOUT HIRING QUADS, MOPEDS AND BUGGIES IN AYIA NAPA
If you hold a full driving licence you can rent a moped, quad, scooter or buggy. No Licence = No Hire.
If you have a provisional driving licence you can rent smaller engine vehicles up to 100cc quad bikes and mopeds. 
If you forget to bring your licence most rental firms will accept a faxed confirmation from the DVLA (UK licences only)
Most bike rental companies will ask for your passport and will keep it as security that you will return the bike. 
All vehicles need to be returned in the same condition they were given to you in. If you've done any damage, don't try to hide it or pretend you didn't as you are dealing with trained mechanics who know their bikes inside out.
When you hire your bike or quad go over it with the sales person so you agree on any damage already done. 
Any damages will need to be paid for before your passport is returned. Cash and cards accepted!
All bike shop owners and their staff know each other. If they spot you doing something you shouldn't such as jumping off sand dunes or doing donuts then it will get back to the owner. 
They also all know each others prices. We wary of extra cheap prices that look too good to be true as they probably will be. Make sure you are getting insurance with your rental and it is not extra.
Remember you get what you pay for, so newer, well maintained bikes may cost you a little more but you're unlikely to have to push them home when they break down on you. Cheap is not always better value. 
Petrol is very cheap. A 50cc vehicle should only cost about €4 to fill. and larger engines €6-8. Some rental firms will give you a lower price but charge you a high rate for a tank of fuel.
Most firms also state that you cannot leave the Famagusta District. If you are renting a more powerful bike which can be taken onto the highway, (over 125cc only) check with your rental firm before you take it out of the district. 
HOW TO BOOK
———————
Send us an email at info@agianapaholiday.com  or complete the Request form at the section Contact Us
Include on your message:
——————————-
. Quad or Buggy
. Date of Quad/Buggy rental
. Days of Rental
. Time of Rental
. Number of Persons 
. Hotel & Room number
We will inform you about the availability through email/whatsapp/viber(make sure you include your mobile number in the email or contact form)
Then you can PAY for your Quad rental
———————————————————-
WAYS TO PAY:
——————
. PAYPAL
. CREDIT / DEBIT CARDS (MASTER CARD/VISA)
. PayPal.Me/titanastraveltours
(use this link to pay)
When you pay we  will send you a CONFIRMATION message of your Quad rental(DAY and PICK UP TIME & POINT) through email/whatsapp/viber
(scan or photo of Original Ticket will be send to you)
The CONFIRMATION MESSAGE is your TICKET for the Quad rental
PRINT OUT

 the Confirmation message with the scan or photo of Original Ticket and present it on the day of your Quad Rental

(Note: in case you want to have in hand an extra receipt -ticket(not necessary) from our office confirming your Quad rental, then we can arrange to meet and give you such a receipt)
---