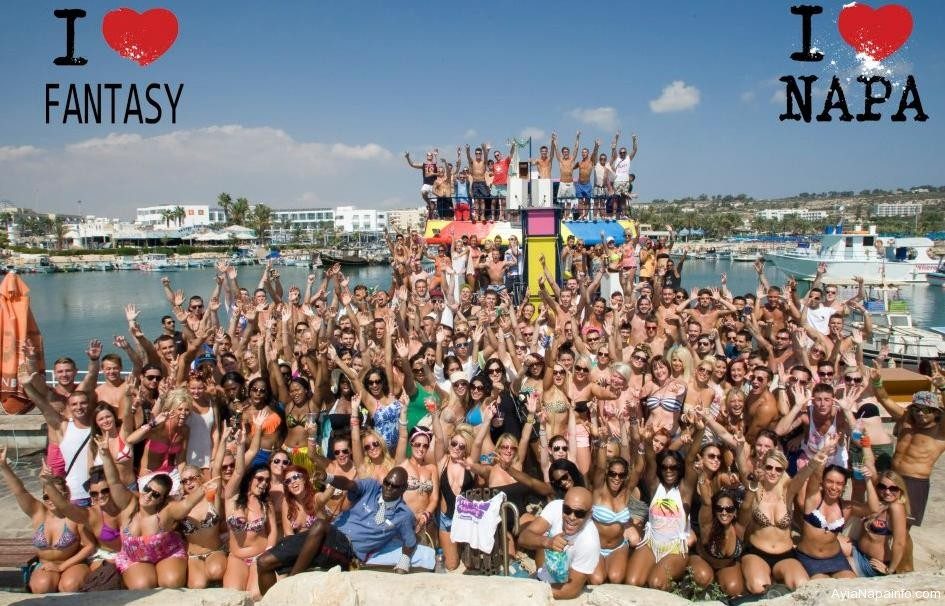 Welcome to the Fantasy Boat Party
FANTASY BOAT PARTY is an icon in Ayia Napa,operating the world's best boat party and having done so since 1993. We aim for a music loving multi national crowd each time we sail, with an even guy to girl ratio of party people.
The pre party starts at 4pm aboard THE BLACK PEARL PIRATE BOAT in Ayia Napa Harbour. Everybody is fed a ROAST CHICKEN,POTATO and GREEK SALAD MEAL whilst meeting and mingling amongst each other.
Captain Jack Sparrow hosts the pre party with the BLACK PEARL PIRATE BOAT STAFF laying tunes for an uplifting mediterranean party atmosphere!!!
A GROUP PHOTO is taken at around 5.30 pm of all party goers and is DISTRIBUTED FREE at the end of the evening.
Security and Fantasy party hosts then take the crowd to our three level Napa Queen boat!!!
The top level is a full on dance floor and bar featuring DJ and MC playing UKG/FUNKY HOUSE/ HIPHOP/ OLD SKOOL HOUSE/ RNB/ DRUMNBASS/ JUNGLE/BASHMENT and BREAKBEATS.
The middle level is a larger bar,dance floor and lounge area.
The lower level is toilets,showers,cabins and changing areas.
MARSHALL DJ's and Hosts each Boat Party with crowd involvment on party games and watersports. Always considered a highlight,we have THREE swimming stops into the mediterannean during the Boat Party. Look out for MARSHALL'S special GUEST ARTISTS throughout Summer 2017!!
FANTASY BOAT PARTY RETURNS at about 9pm to Ayia Napa Harbour where buses are waiting to take the crowd to the afterparty.
Included as an afterparty, FANTASY BOAT PARTY distributes FREE ENTRANCE TICKETS to Ayia Napa's Biggest Night Clubs to all guests onboard!!!
About the boat party
We are the solution to your party venue dilemma. Treat yourself to a cruise around the local waters whilst enjoying superb entertainment, music & Dancing One of the best spots to dance your stress away in Cyprus, Ayia Napa, is on Fantasy Boat Party. Join our multi- National "like minded individuals" looking for a great time! Our cruises will depart from Ayia Napa's Harbour and cruise the beautiful coastline. This 5-hour cruise will be the most exciting 5 hours you might get to spend in Ayia Napa, leaving you never wanting to step foot on dry land again, Dancing to the biggest tunes in the sunshine, looking out at sea and the beautiful coastline of Ayia Napa.
Features:
Lunch
2 Bars fully stocked
DJ's & Host
Party Policeman
Group Photo
Free DVD (Uploaded to YouTube)
3 level boat
Toilets
Wash Basins
Sun Decks
Sheltered Area
Large Handrails
Dynamic Sound System
Non-skid diving platforms
Over sized boarding ladder & Platform
Attractive eye catching colour- keyed boat (Great for Photos)
MEETING POINT : AYIA NAPA HARBOUR (at 12:00 OR 16:00)
BOAT PARTY DAYS: 2-3 TIMES PER WEEK (APRIL&MAY – SEPT&OCT)
                                        DAILY(can be twice per day) (JUNE-JULY-AUG)
BOAT PARTY TIMES : 12:00 (on NAPA QUEEN BOAT) – 17:00
and/or                               16:00(on BLACK PEARL BOAT) – 21:00
TICKETS AVAILABLE
PRICE: €60
———–——-
HOW TO BOOK
——————— 
Send us an email at info@agianapaholiday.com  or complete the Request form at the section Contact Us
Include on your message:
——————————-
. Date of Boat Party
. Time of Boat Party
. Number of Persons
. Hotel & Room number
We will inform you about the availability through email/whatsapp/viber(make sure you include your mobile number in the email or contact form)
Then you can PAY for your Boat Party
———————————————————
WAYS TO PAY:
——————
. PAYPAL
. CREDIT / DEBIT CARDS (MASTER CARD/VISA)
. PayPal.Me/titanastraveltours
(use this link to pay)
When you pay we will send you a CONFIRMATION message of your Boat Party through email/whatsapp/viber
(scan or photo of Original Ticket will be send to you)
The CONFIRMATION MESSAGE is your TICKET for the Boat Party
PRINT OUT

 the Confirmation message with the scan or photo of Original Ticket and present it on the day of your Boat Party

NOTE :  ( 1 or 2 days prior to the Boat Party we will contact you and arrange a meeting to give you the original ticket of the Boat Party)