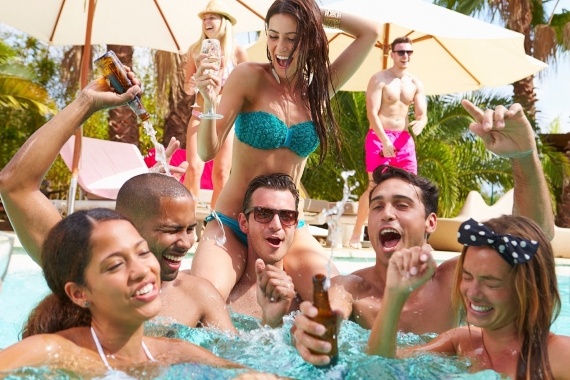 Ayia Napa's main venue for daytime pool parties is the Pambos Napa Rocks hotel in the centre of town. Completely refurbished in 2015, it boasts a huge pool, loads of deck space for dancing, mingling and sunbathing and plays host to some top name DJ's and artists through the summer. Pool parties are held on several days a week and are open to non-residents.
Pool Parties have become massive in Ayia Napa over the past  years and they now rival going to the beach as the top thing to do in the daytime. Ayia Napa is no longer just for partying at night, the day times are just as awesome!
Pambos Napa Rocks Pool Party  has proven over the last  seasons to be the messiest event in Ayia Napa, with guest DJ's and Napa's workers family attending every week, Pambos Napa Rocks Pool Party is now one of the must do events. The aim of the parties are simple, to get everyone wasted and create an atmosphere that everyone enjoys, so whatever your plans are in Cyprus, make sure you put this into your diary.
With 2016 season here over, we can guarantee that next year will be even bigger and better!
Party starts at 14:00 till
19:00 (Thursday Pool party)
TICKETS AVAILABLE 
HOW TO BOOK
——————— 
Send us an email at info@agianapaholiday.com  or complete the Request form at the section Contact Us
Include on your message:
——————————-
. Date of Pool Party
. Number of Persons 
. Hotel & Room number
PAY for your Pool Party
————————————————
WAYS TO PAY:
——————
. PAYPAL
. CREDIT / DEBIT CARDS (MASTER CARD/VISA)
. PayPal.Me/titanastraveltours
(use this link to pay)
When you pay we will send you a CONFIRMATION message of your Pool Party  through email/whatsapp/viber
(scan or photo of Original Ticket will be send to you)
The CONFIRMATION MESSAGE is your TICKET for the Pool Party
PRINT OUT

 the Confirmation message with the scan or photo of Original Ticket and present it on the day of your Pool Party

(Note: in case you want to have in hand an extra receipt -ticket(not necessary) from our office confirming your Pool Party, then we can arrange to meet and give you such a receipt)