Dolphin Safari  Boat Trip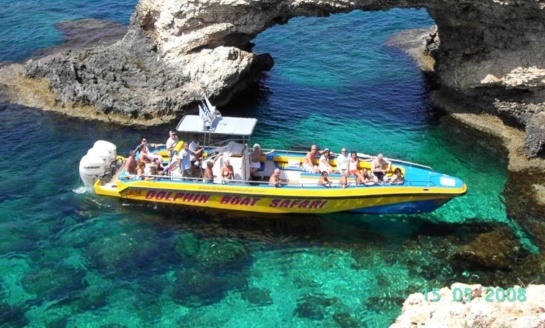 Dolphin Boat Safari
from Ayia Napa to Famagusta
Adult : €30
Kids :  €15 (2 -12 years old) 
Time: 10:00 – 12:30(may be 13:00)
Price includes beer or soft drink.
Boat Safari programme:
1. Ayia Napa Cave
2. Palace
3. Cape Greco
4. Queen's Bay
5. Light House
6. Amfora Bay
7. Blue Lagoon
(halfway stop for swimming and snorkeling)
8. Ayioi Anargire Cave
9. Konnos Beach
10. Green Bay
11. Fig Tree Bay
12. Pernera
13. Golden Coast
14. Kapparis and Famagusta border
(stop for information about the ghost town)
15. Return (Dolphins Area
to watch dolphins and turtles if we are lucky)
16. Blue Lagoon
(stop for swimming and snorkeling)
17. Back to Ayia Napa harbour
Dolphin Boat Safari will reveal some of the coastal highlights as you cruise past tranquil bays, striking cave formations and historic landmarks, looking out for dolphins and turtles on the way.
Your three-hour tour begins at Ayia Napa Harbour, where you will board your safari boat for an exhilarating adventure on the sparkling Mediterranean Sea. Relax on deck, feeling the sun on your face and the cool breeze in your hair as we cruise leisurely across crystal clear turquoise waters towards Ayia Napa Cave and the famous Palaces beyond the beautiful Cape Greco. These magnificent rock formations have been sculpted by the waves over hundreds of years, creating a palace-like structure, hence the name. Get your camera ready for some spectacular photo opportunities.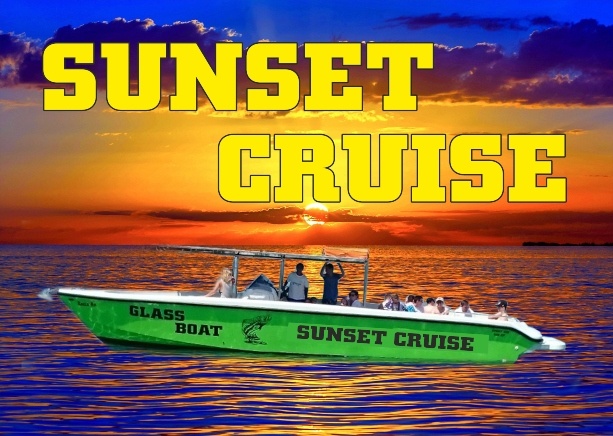 SUNSET CRUISE
Daily from
Ayia Napa Harbour
€20 - Duration: 2.5 hours
Price includes beer or soft drink and champagne.
We travel to Cape Greco and Konnos Bay, where we stop for swim. Here is where we put on our snorkeling equipment (provided by the company) and prepare for unique swimming experience in the crystal clear waters of Cyprus' east coast. Tail the the snorkel leader, your guide to the spectacular underwater world! If you are a snorkeling "novice", don't worry. We will teach you the ropes.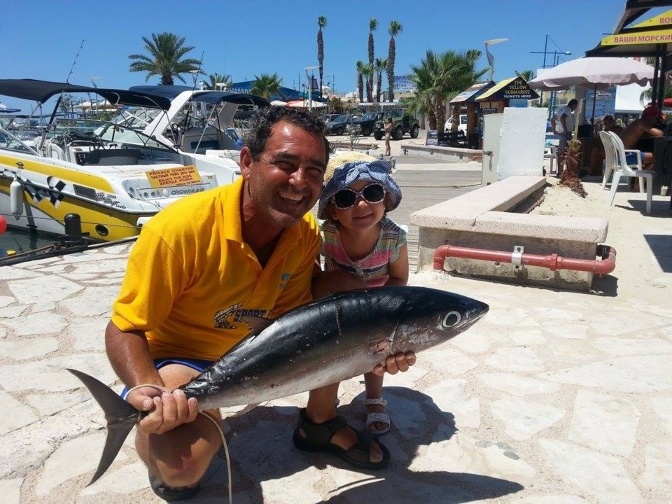 Sport Fishing
€45 per person
Duration 2,5 - 3 hours
Time:7:30-10:00
Price includes beer or soft drink.
Join us on one of our fast boats for a unique fishing experience.
The speed of our vessels makes it easy for us to move around the various fishing areas up to 10 NM off the coast.
We provide all fishing equipment
HOW TO BOOK
———————
Send us an email at info@agianapaholiday.com  or complete the Request form at the section Contact Us
Include on your message:
——————————-------
. Name of Activity
(dolphins/fishing/sunset cruise)
. Date of Activity
. Time of Activity
. Number of Persons ( Adults + Childs + Infants)
. Hotel & Room number
We will inform you about the availability through email/whatsapp/viber(make sure you include your mobile number in the email or contact form)
Then you can PAY for your  Activity
————————————————------
WAYS TO PAY:
——————
. PAYPAL
. CREDIT / DEBIT CARDS (MASTER CARD/VISA)
. PayPal.Me/titanastraveltours
(use this link to pay)
When you pay we will send you a CONFIRMATION message of your Activity  through email/whatsapp/viber
(scan or photo of Original Ticket will be send to you)
The CONFIRMATION MESSAGE is your TICKET for the Activity
PRINT OUT

 the Confirmation message with the scan or photo of Original Ticket and present it on the day of your Activity

(Note: in case you want to have in hand an extra receipt -ticket(not necessary) from our office confirming your Activity, then we can arrange to meet and give you such a receipt)
(Pay the Total amount)
(ie Adults+Children+infants=Total Amount)